Pensacola, Florida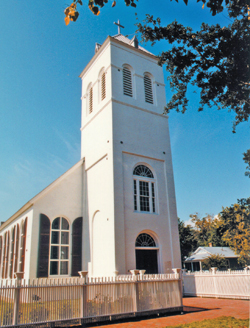 Pensacola, not St. Augustine or Jamestown, was the first European settlement in the continental United States. In 1559, Don Tristan de Luna landed with 11 ships laden with gear, food and 1,500 passengers. Just three months later, a hurricane swept through, killing hundreds and destroying the camp and several ships. As famine spread, the settlement was abandoned, and it would be more than a century before the next group of settlers arrived.
Today, Pensacola is a thriving Gulf Coast city of approximately 54,000 residents. Naval Air Station Pensacola, located on the same ground as Don Tristan de Luna's original settlement, is home to the renowned Blue Angels.
Rich in history, the Pensacola area has been described as having the world's whitest beaches and being the cradle of naval aviation, the western gate to the Sunshine State, America's first settlement, the redneck Riviera and the red snapper capital of the world. Its most popular nickname, however, is The City of Five Flags, for the five governments that have ruled the area: Spain, France, Great Britain, the Confederate States of America and the United States of America.
Pensacola Bay was also known as Polonza or Ochuse by the Spanish who re-established the area in 1696. Pensacola grew to become the largest city in Florida and the capital of the British Colony of Western Florida in 1763. Because of its location south of the original British Colonies and on the dividing line between French Louisiana and Spanish Florida, along the Perdido River, possession of the city has changed several times.
Pensacola offers a huge variety of attractions, from amusement parks to the zoo and everything in between. Water sports abound, but there are also golf courses to play, historic sites to visit and a host of shops and dining establishments to explore. The Florida Panhandle is an excellent place for nature lovers, with many parks and trails. In addition, residents and visitors enjoy festivals such as Mardi Gras and the Fiesta of Five Flags.