Calabash, North Carolina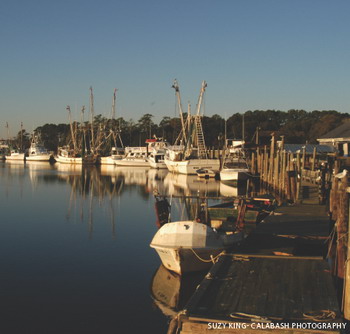 Nestled on the tidal plains in the southeast corner of North Carolina lies a small fishing village with a timeless legacy and a rich tradition. Situated between the bright lights of Myrtle Beach to the south and the historic charm of Wilmington to the north, Calabash remains a pleasant respite from the modern world.
Known as the Seafood Capital of the World, Calabash has become a prime destination for those seeking a more relaxed pace.
Legend has it that the town - and the Calabash River - are named for the Calabash gourd, which grew wild throughout the area. Nineteenth century slaves used the gourds as drinking vessels or bottles. By the end of the century, when peanut farming was an important part of the local economy, the area was known as Pea Landing. Peanuts, indigo, rice and other crops grown on nearby plantations arrived by wagon and were shipped to market in Wilmington. Seafood, prepared "Calabash-style," was always a local staple but did not become a driving force until the 1930s.
"Today, this fishing village of just under 800 people retains its simple, Southern charm."
The Great Depression did not spare Calabash, and much of the local labor was forced out of the fields. Many turned to the sea in order to feed their families, and it wasn't long before small shacks sprang up on the river banks, serving fresh seafood prepared in the local style. With fishermen selling their catch right on the dock, the seafood market flourished.
While each of the more than 20 restaurants that prosper today serves its special version of Calabash seafood, the eating experience always starts with fish fresh from the boat, which is lightly battered and deep fried. Hush puppies are required.
Great seafood at affordable prices remains the hallmark of Calabash, enjoyed by locals and visitors alike. In 1940, a famous entertainer and his troupe stopped by Lucy Coleman's restaurant. Before leaving, Jimmy Durante promised Lucy he would make her famous and, not long after, he began signing off his radio program with "Good night, Mrs. Calabash, wherever you are." A true story? Calabash residents still think so.
Today, this fishing village of just under 800 people retains its simple, Southern charm. In addition to its claim to fame as the center of the seafood universe, the Calabash area offers a wide range of recreational activities, from horseback riding to golf, and its proximity to the Calabash River and the Intracoastal Waterway makes it a paradise for boaters and fishermen.
And, in the afternoons - when the boats come in - Calabash lives up to its reputation as the Seafood Capital of the World.