Morehead City, North Carolina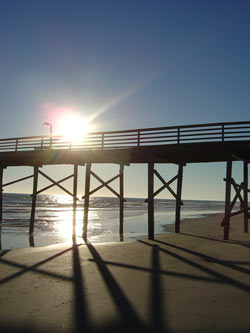 Situated across from Beaufort on the Newport River near where it runs into the Atlantic Ocean, Morehead City is a mainland seaport rich in maritime past. In keeping with its rich history, the town hosts marine research facilities, including the Institute of Marine Sciences and the North Carolina Division of Marine Fisheries.
Further deepening its ties to the sea, Morehead City is the deep-water port for the Second Division of the United States Marine Corps at Camp Lejeune.
Planned by Governor John Motley Morehead in the mid-19th century as "a great commercial city," the town extended the terminus for the North Carolina Railroad originating in Goldsboro. The city developed rapidly after the first lots were sold in 1845 and the port continued to grow steadily it was interrupted by the War Between the States.
During Reconstruction, the railroad thrived from hauling seafood to inland cities, although the port suffered. However, with the recent development of a large charter-fishing fleet, the town has recaptured its seagoing culture.
With it's proximity to the sea, follows that the life aquatic is a preoccupation with townspeople. A full calendar of fishing tournaments all along the Crystal Coast includes both inshore and offshore fishing for everything from trophy billfish to king mackerel. Surf fishing is also a popular pastime as well as a competitive sport. Kayaking offers an up-close look at the mysterious marine and coastal habitat.
Across the river in Beaufort, Blackbeard's Queen Anne's Revenge Artifact Repository houses numerous items salvaged from the wreckage of the legendary pirate's flagship. Located at the North Carolina Maritime Museum, the repository features a model of the ship and the wreck site, a video detailing the discovery and recovery of artifacts, along with an exhibit showcasing a diorama of the wreck site and the artifact storage area.
The oldest of its kind in North Carolina, the Carteret County Curb Market operates each Saturday through Labor Day in downtown Morehead City. Fresh vegetables, cut flowers, fresh seafood and baked goods highlight the available fare.
Added to all these cultural amenities, among many others, makes Morehead City an exciting place to live, with rich traditions and a relaxing, gracious Southern lifestyle.