St. James, North Carolina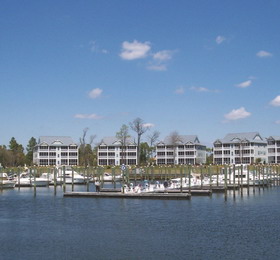 Little more than a decade ago, St. James was 3,300 acres of undeveloped farmland. Now, this upscale golf course development west of Southport is favored by retirees who want to indulge their passion for golf.
In addition to the two neighborhoods within the development, St. James Plantation and The Reserve, the development has something many more established communities lack - cooperation between city officials and the homeowners' association. That's because they are one and the same.
Situated around four designer courses, St. James is a golfer's dream. Each one provides a different golfing experience. Designed by Hale Irwin, P.B. Dye and the Tar Heel state's own Tim Catem, residents never tire of the challenging layouts. The crown jewel of this development is the Jack Nicklaus course in The Reserve, which opened in 2005.
Unlike many other developments, St. James has no model homes or spec homes. Residents purchase lots; the design and style of each home is left to the homeowner. Though builders are required to adhere to certain guidelines, the variety of homes is reminiscent of those in older, established neighborhoods.
The diversity of home styles leads to a wide range of home prices within each neighborhood, sometimes even on the same street. Homes range from $125,000 to $850,000 in St. James Plantation and higher in the Reserve.
Both subdivisions are gated, giving them a "small-town" air, where parents feel safe allowing their children to play outside.
Not interested in golf? There is plenty to do in St. James, which is dotted with parks and open spaces. Walking trails meander through wooded areas. And, since the Intracoastal Waterway is nearby, boating and fishing are popular pastimes.