Sandpiper Village, Mount Pleasant, SC
The delightful smell of the day's lunch offering wafted through the community center at Sandpiper Village. Moments later, a worker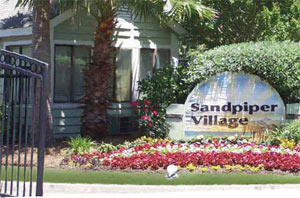 opened the door to the kitchen and offered to bring me a plate.
"Chicken Marsala," she tempted. I resisted - with some difficulty because it truly smelled delicious - and turned my attention back to my surroundings. Lunch was over, and now the lobby area was full of residents, checking their mail, making plans for later or heading for the small library.
Sandpiper Village is a small retirement community tucked away in Mount Pleasant. Just a minute or two from the bustle of Highway 17 North, it is close to shopping, dining and healthcare, but, more importantly for many residents, it is also close to family.
Gwen Barron, who has lived at Sandpiper Village for three years, moved here with her husband to be near their two daughters.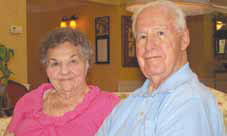 She likes the layout of the property because it encourages walking, and she enjoys the variety of activities that are available. Bingo and bridge are old standards, but today's seniors like to get out.
"They have a lot of nice activities such as wine and cheese parties and happy hour," Mrs. Barron said. "And the bus takes us to points of interest and to nice restaurants."
Rose-Marie Williams moved to Sandpiper Village about a year ago. She visited quite a few other retirement communities before making her decision. The other places were nice, she said, but she immediately liked the friendliness of the residents and staff as well as the convenient layout.
Sandpiper Village is a small retirement community in Mount Pleasant close to Highway 17 North, shopping, dining, healthcare, and for many residents, it is also close to family.
"Everything is so easy to get to," said Mrs. Williams. "They offer housekeeping and a concierge service for anything you need. I wanted to rearrange the furniture, and I just called and two men came and moved the furniture. There is almost nothing they won't do."
Peggy and Jack Thouvenelle, who will celebrate their 63rd anniversary at Sandpiper Village, are happy with their decision, too. Their daughter lives just five miles away and visits often. The Thouvenelles love the ambience of Sandpiper Village and the fact that all apartments are onestory, but they say the people make the difference.
"It's the people - great people with similar backgrounds," Mrs. Thouvenelle said.
Mrs. Williams concurred, adding that the director of Sandpiper Village is a nurse, "which is quite a benefit to us. She visits residents when they are in the hospital or in rehab."
She said her daughter summed it up when she stopped by Sandpiper Village: "Mom, it's camp for grown-ups!" It is like camp. ... with gourmet food.
Sandpiper Village is a community of 110 one- and two-bedroom apartments set on 11 acres. Apartments are cottagestyle, and covered walkways add to the ambience. Amenities at the community center include a pool, a media center, a library and an exercise room. Two new additions are the Gentle Breeze Spa for women and The Sand Bar for men. A host of activities are available for residents. For more information, call (843) 884-5735.