Atlantic Beach, North Carolina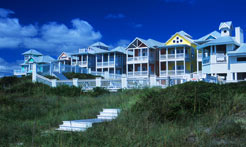 Atlantic Beach, North Carolina, is the oldest of five beach resort communities located along the 30-mile stretch of Bogue Banks, a barrier island between Bogue Sound and the Atlantic Ocean.
What was once simply a vision of Appleton Oaksmith is now a thriving beach resort buzzing with vacationers and local beach lovers. People are drawn to the beautiful white beaches of Atlantic Beach and are welcomed by the friendly faces of its local residents.
This successful beach community is a town brimming with excitement and entertainment. Locals and tourists never suffer a dull moment because there is always something to do - for everyone. The pristine white beaches offer endless recreational opportunities, from swimming to building sand castles to simply taking in some sun. For those who like to shop, treasures and trinkets can be found throughout the many stores, and some of them display local works of art their windows.
The cuisine of Atlantic Beach ranges from fine waterfront dining to casual local seafood hangouts. Among them are Amos Mosquito's Swampside Café and Crab's Claw Restaurant. After a delicious dining experience, locals and vacationers alike enjoy visiting an array of dance clubs. A popular spot is the Memories Beach and Shag Club, which offers a pavilion style dance floor where the shag is performed and taught, as well.
Atlantic Beach always has multiple events in progress, including the huge Fourth of July town celebration and several fishing tournaments.
Boredom is one word that will never be mentioned at Atlantic Beach.