Holden Beach, North Carolina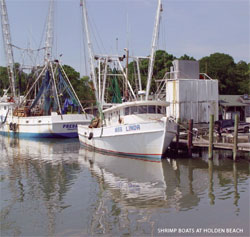 The residents of Holden Beach, long regarded as one of North Carolina's most beautiful barrier islands, are committed to protecting the natural beauty and serenity of the island for generations to come.
This commitment has made Holden Beach a favorite destination for retirees seeking the solitude of a small seaside town. But thanks to a modern bridge, completed in 1986, Holden Beach offers the best of an isolated beach-front community and all the conveniences of the modern world, with both Wilmington and Myrtle Beach approximately 45 minutes away by car.
Located at the southern tip of North Carolina, the beach runs east-west, providing interesting and magnificent vistas morning and night. The sun seems to rise directly out of the ocean, then set gently back into the peaceful Atlantic.
"Holden Beach has embraced those who share a love for everything beach-front communities have to offer."
The tiny island, owned by the Holden family since it was purchased from the Crown prior to the Revolutionary War, was sold in 1969 and incorporated with the stipulation that commercial development be kept to a minimum. As a result, the business community includes only a few small, locally owned stores and dining establishments and a post office. The island has avoided the commercial chains and unchecked development found in many other beach communities.
Though not particularly inviting to the commercial world, Holden Beach has embraced those who share a love for everything beach-front communities have to offer. The island provides ample parking and numerous public showers, and handicap ramps give wheelchair-bound visitors easy access to the warm waters of the Atlantic.
Residents of Holden Beach take great pride in sharing their island with a large number of loggerhead sea turtles, providing a sanctuary for the endangered species. The turtles nest on the island, and their human neighbors go to great lengths to protect the nests and the hatchlings until they are old enough to fend for themselves.
Though Holden Beach may be secluded and without many of the trappings of the outside world, there is still plenty to do. The island offers a fishing pier, marina and boat landing, and some of the world's finest golf courses are a short drive away in Myrtle Beach.