Charleston, South Carolina
Charleston is rated the top vacation destination in America, and it surely has to be among places you'd like to spend the rest of your life. If it doesn't yet, it eventually will.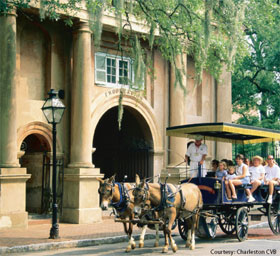 Visit once and you'll find out first had that it pulls at your heartstrings like no other place in the country.
Is is it the pleasant nature of those who live here? The almost-European look and feel of Charleston's city streets? The overwhelming amount of history lurking down every alley and at each corner? Charleston is truly one of the most ecumenical cities around, offering sophisticated dining rivaling that of much larger cities and shopping experiences for even the most jaded consumers.
To say that Charleston is permeated in history is much like saying the fire is hot. Other places have long histories as well, but none is a living museum that grows and changes with the times. Suffice it to say, if you're an American history buff, you will never tire of Charleston and its suburbs.
"Regardless of Charleston's big-city feeling and amenities, it maintains a certain small-town charm..."
While the city itself has no beaches, it is almost totally surrounded by water. The most scenic view in Charleston might be The Battery, with its sweeping views of the Cooper and Ashley rivers that form the peninsula, and the Atlantic Ocean. If you love the sights and sounds of gentle waves washing in against the shore, you can find some of the best beaches along the Atlantic coast nearby. If you golf is your thing, there's no shortage of terrific courses to conquer. If you like to walk, Charleston is full of interesting little destinations: parks and side streets filled with art galleries and boutiques.
Regardless of Charleston's big-city feeling and amenities, it maintains a certain small-town charm you'll revel in for years to come. You'll enjoy morning walks around Colonial Lake and The Battery, and sunset cocktails at restaurants overlooking the water. You'll come to appreciate the complex artwork in the wrought-iron gates and the wonderful Charleston single style of architecture, designed to catch the breeze on hot afternoons.
Most of all, you'll be thrilled with the many new friends and acquaintances you'll make the magic lures you into a move to Charleston.