Porters Neck Plantation: Wilmington, North Carolina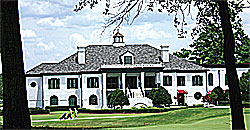 Golfers who step onto the first tee at Porters Neck Plantation and Country Club, a 414-yard par 4 from the gold tees, will find the Tom Fazio design to be both beautiful and eminently playable. That is no surprise, because Fazio, a resident of Hendersonville, has served as the architect for more than 100 courses, from Beaufort, South Carolina, to Bermuda. His long list of credentials includes being named Best Modern Day Architect by Golf Digest three times.
Porters Neck is just off Market Street in Wilmington, tucked away into a corner created by the Intracoastal Waterway and Futch Creek. The course, which plays from 5,665 yards to 7,112 yards off the gold tees, is challenging to golfers of all skill levels.
Number five favors the big hitters. A 586-yard par 5 from the back of the tee box, it requires three shots to the green for most players. Those with the nerve to go for the putting surface in two shots must contend with a large bunker that guards the front of the large, undulating green.
Number nine provides an interesting if potentially treacherous way to finish the front side. Bunkers on either side of the landing zone on the 415-yard hole guard the undulating fairway, and the green is surrounded by danger: water on the left and deep bunkers on the right.
Water comes into play again in a major way on the par 4 13th hole. At 385 yards, its length is not intimidating, but, if you stray left on any shot before you reach the green, you're certain to be wet. The same can be said for the longer number 14, a 455-yard par 4 with water and a large waste bunker on the left the length of the hole.
The finishing hole is a 455-yard par 4 with sand guarding the landing zone and three bunkers waiting near the green. Most golfers would be happy to make par here and head for the clubhouse.
Golf is the main attraction at Porters Neck, but the club also offers several pools, a full-service fitness center and seven tennis courts. The tennis scene isn't all fun and games -Porters Neck hosts USTA league play for players of all ages and skill levels.