Eagle Crest, Myrtle Beach, SC
You don't have to be retired to live at Eagle Crest, but having to work a full-time job might cramp your style if you are planning to take full advantage of all the activities available to residents of the Myrtle Beach, South Carolina, community.
Owned by Holiday Retirement, which operates similar communities throughout the United States and Canada,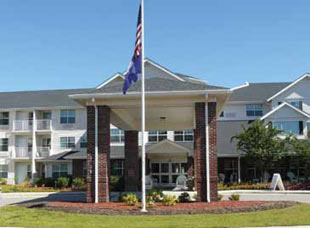 Eagle Crest offers people 55 and older the opportunity to enjoy the advantages of an active and fulfilling lifestyle without the responsibilities of owning a home. Residents of Eagle Crest pay rent, and, though they are not required to make a long-term commitment, once they move in, few of them leave.
"We are a month-to-month community," Erick Knackstedt, one of Eagle Crest's on-site managers, commented. "If you sign an agreement and three months later you decide it's not your cup of tea, you give us 30 days notice and move out without any penalty. We do not see that happen very often."
Holiday Retirement, located in 43 of the 50 states, strives to serve its residents' needs by focusing on seven dimensions of wellness: physical, emotional, spiritual, intellectual, creative, social and vocational.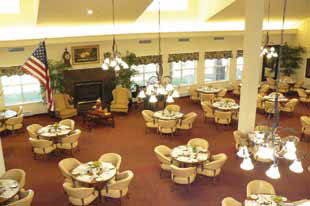 As a result, the enrichment coordinator at Eagle Crest plans a wide range of activities, including balloon ball, stitching, bean bag baseball, putt-putt, poker, bridge, yoga and Wii bowling tournaments, as well as exercise classes and educational lectures.
The realm of activities for Eagle Crest's residents extends beyond the community's 118-unit complex. For residents who no longer drive, a shuttle is available for shopping excursions, to attend plays and baseball games or to visit local museums. The beach, just a few blocks away, is another popular destination for active residents.
"We are a wonderful community for seniors," Knackstedt explained. "Eagle Crest is for people who want to relieve themselves of the daily frustrations of having to cook, clean up and handle other chores associated with owning a home or condo or renting an apartment."
The monthly rental fee at Eagle Crest covers almost everything, including an unfurnished apartment, three made-from-scratch meals every day prepared by the community's on-site chef, all utilities and cable television. The only additional cost is for a personal telephone. There is an emergency call system in every room of every apartment, and two sets of managers who live at the community are available at all times.
Like all Holiday Retirement communities, Eagle Crest honors those who have served our country. Through the Veterans Administration Aid and Attendance program, armed forces retirees might be eligible for up to $1,949 per month to pay for living expenses. However, according to Knackstedt, it can take up to a year for a veteran to be certified to participate. Holiday Retirement has found a great way to speed things up during the qualification process.
"Once we see that a veteran is a good candidate for the program, we give him or her the reduction in rent equal to the benefit. When the VA payment kicks in, they repay us. If they do not qualify, they will not have to pay back the amount we gave them," Knackstedt explained.
Holiday Retirement shows its appreciation to its residents in other ways. For example, residents can stay in a furnished guest apartment and eat for free at any other Holiday community across the United States or Canada at no additional cost. That is just one more reason to consider the carefree lifestyle offered by Eagle Crest.
For more information about Eagle Crest and other Holiday Retirement communities, call (843) 353-0408 or visit www.holidaytouch.com.