Topsail Beach, North Carolina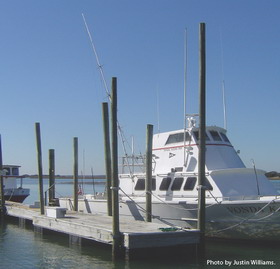 Topsail Island, North Carolina, a little more than 26 miles long, includes three towns - North Topsail Beach, Surf City and Topsail Beach - and some of the best beaches on the East Coast.
Topsail Beach, at the island's southernmost tip, is the most secluded town on the island. A mere 450 people live there full-time, but the population swells to about 8,000 during the summer months. According to Mayor Butch Parrish, the town has managed to retain its 1950s atmosphere.
Topsail Beach is home to some of the oldest and most significant buildings on the island. The Assembly Building, for example, is the headquarters for the Missiles and More Museum, which houses artifacts from the 1940s, especially those concerning Operation Bumblebee, a missile testing program operated on the island after World War II by the U.S. Navy and Johns Hopkins University. More than 200 experimental rockets were fired into the North Carolina sky between 1946 and 1948, launching the nation's space program, which eventually moved south to Florida.
Another interesting family activity is a visit to the Karen Beasley Sea Turtle Rescue and Rehabilitation Center, the only one of its kind in North Carolina. The hospital, which rescues injured, ill and stranded sea turtles, is open only in the summer.
"When families visit here, there is very little for children to do except enjoy the water, the beach and spend time with their families," says Parrish. "We have very nice draw as a family beach, and there are plenty of things for families to do together here."
The town has some of the best restaurants in the area, serving everything from Calabash-style seafood and steaks to deli sandwiches, homemade ice cream and Southern breakfasts.
The Jolly Roger Pier is the place to go to try your hand at fishing, or for a moonlit stroll.
Topsail Beach is a place to restore your soul. The sunsets are breathtaking, filling the air with brilliant reds and yellows as the sun's rays reach out to engulf you.
"It's the most unique place I've ever been," says Town Manager Jim Carter. When you visit Topsail Beach, you'll agree.