Jacksonville, North Carolina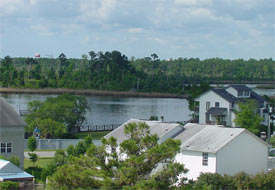 Retirees who like to retain a close tie to the military forces enjoy living in towns such as Jacksonville. Not as large as its counterpart in Florida, the North Carolina coastal town is adjacent to two Marine installations making for easy access to military benefits for those who are stationed there and those planning to retire.
Once a primarily agricultural community, Jacksonville has emerged to become the virtual center of Onslow County not just geographically but commercially. Home to the Marine Corps Base Camp Lejeune and Marine Corps Air Station New River, Jacksonville has attracted companies and businesses that benefit both the military and civilian residents. Camp Lejeune was commissioned in 1941, creating a boom town as military personnel, government workers and defense contractors moved in.
These two marine bases are an immense source of pride for Jacksonville who consider the men and women stationed there as respected town members. The town, which bills itself as a caring community, is proactive in making their military families feel at home. An example is Project CARE. It stands for Community Action Readiness Effort and was created in response to an extremely heavy deployment during the first Gulf War. Project CARE assists families of deployed personnel and helping local businesses that need help during times of deployment. Perhaps the most important part is that the community comes together and celebrates the efforts put forth by the troops.
Not everything about Jacksonville is military-oriented, however. There are many opportunities to enjoy the beautiful coastal location. Pristine beaches invite swimming, strolling, shelling and other activities while the New River is fun for kayakers and fishermen. Cyclists will particularly like the miles of biking trails such as the Jacksonville by the Sea course, which covers nearly 22 miles, not including the optional ferry trip to Bear Island.
Jacksonville seems to have it all - an excellent seaside location, a temperate year-round climate, thriving businesses and a community where the residents reach out to welcome new friends.